The South Sudan Medical Journal exists to inform, educate and positively influence the development of Health Services in South Sudan.
The Journal is published quarterly in February, May, August and November.
The SSMJ is licensed under a
Creative Commons Attribution-NonCommercial 4.0 International License
eISSN 2309-4613
SSMJ is listed on the African Journals Online (AJOL) and Directory of Open Access Journals (DOAJ). Visit these sites to learn more.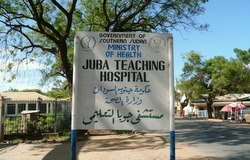 CALL FOR SUBMISSIONS
SPECIAL ISSUE ON MALARIA NOVEMBER 2020
SSMJ is making a call for submissions for a jumbo special issue of the journal dedicated to discussing malaria in November 2020. See details here
++++++++++++++++++++++++++++
Vol 12 No 4 November 2019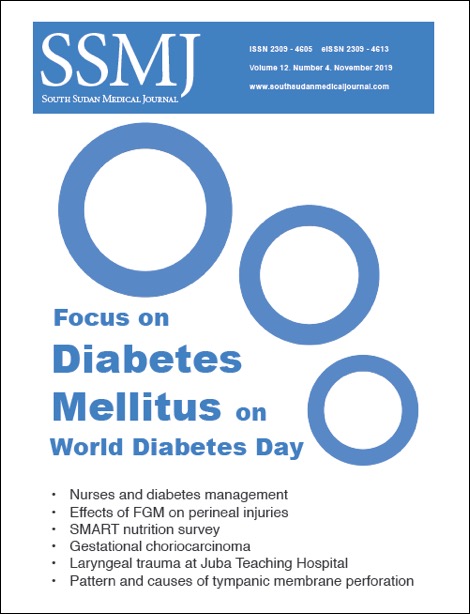 EDITORIAL
Bringing diabetes mellitus into focus on World Diabetes Day Edward Eremugo Kenyi
The theme for 2019 is "Family and Diabetes", chosen "to raise awareness of the impact that diabetes has on the family and support network of those affected, as well as promoting the role of the family in the management, care, prevention and education of diabetes"
ORIGINAL RESEARCH
The effect of Female Genital Mutilation on perineal injuries among women in labour in Dodoma Region, Tanzania
Nurses' knowledge of the management of diabetic patients at Juba Teaching Hospital
See more here
Welcome to our website:
www.southsudanmedicaljournal.com - the home of the South Sudan Medical Journal.
The contents of our previously published editions have all been uploaded and are free to browse and download.
We hope this is a useful resource to you - we would welcome any feedback and suggestions, or to be notified of new editions, email:
[email protected]
Mailing List
Sponsors

SSMJ would like to thank:
Ventnor Rotary Club, Isle of Wight
The Gibraltar Rotary club
For their contribution towards the development of this website
Support Us
Healthcare workers believe that access to good quality healthcare is a basic human right. The SSMJ's role is to empower these hard-working people by providing them with the information and resources that they need to fulfill this goal.
We are a not-for-profit organisation that is staffed by volunteers. We rely on the generosity of the general public to allow us to continue our work in the developed and developing world.
If you have found our website useful please click here to donate now.