The South Sudan Medical Journal exists to inform, educate and positively influence the development of Health Services in South Sudan.
The Journal is published quarterly in February, May, August and November.
The SSMJ is licensed under a
Creative Commons Attribution-NonCommercial 4.0 International License
eISSN 2309-4613
SSMJ is listed on the African Journals Online (AJOL) and Directory of Open Access Journals (DOAJ). Visit these sites to learn more.
Mailing List
If you have found our website useful please click here to donate now.
Double Issue
Vol 13 No 3 August 2020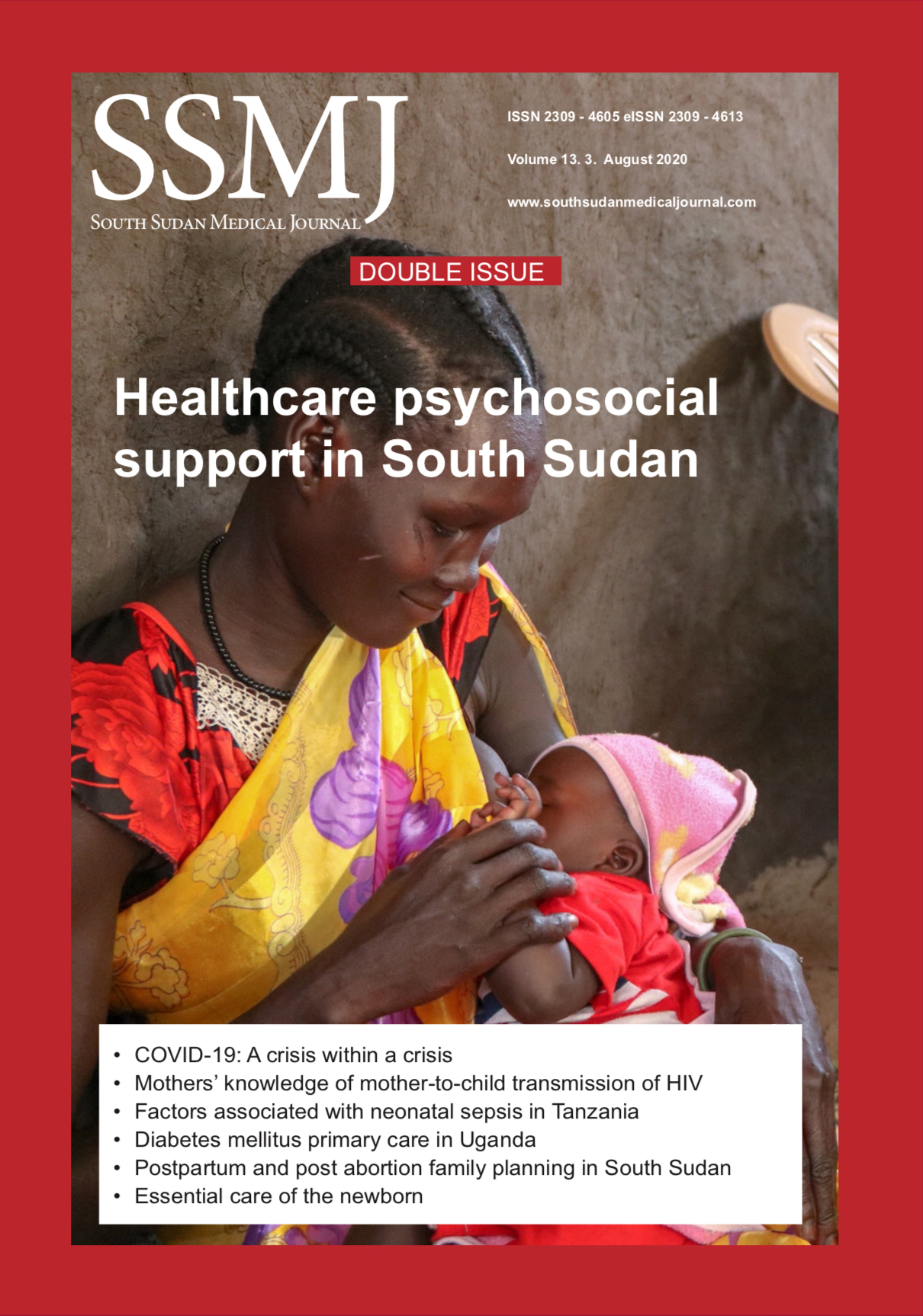 EDITORIAL
COVID-19: A Crisis Within a Crisis
Nyakomi Adwok
Leeds General Infirmary, National Inpatient Centre for Psychological Medicine, Leeds, UK
+++++++++++++++++++++++++++
A Note on the CORONAVIRUS Special Issue
Edward Kenyi
Editor-in-Chief, South Sudan Medical Journal
This special issue on COVID-19 has been produced by the SSMJ editorial team and SSMJ supporters inside and outside South Sudan. We have put together an issue that deals entirely with the COVID-19 pandemic, drawing on reputable sources including WHO, UNICEF and CDC.
COVID-19 is a new disease and new insights into the disease are being learnt every day. We continue to identify new symptoms and signs and management plans are evolving as our experience grows. People react differently to the disease. Most who develop serious problems and who succumb tend to be elderly or have underlying health conditions. We have selected the information that provides reliable guidance according to current knowledge. Apologies if any links do not work in the future.
We hope this information will be useful to those dealing with the pandemic in South Sudan, and add to that provided by the government and other sources. These papers are just a start to the coverage of COVID-19 that SSMJ will be providing in future issues and on our website.
We welcome contributions and suggestions from our readers, and we thank all the authors and reviewers who helped us to produce this special issue in a very short time.
Editor-in-Chief [email protected]