The South Sudan Medical Journal exists to inform, educate and positively influence the development of Health Services in South Sudan.
The Journal is published quarterly in February, May, August and November.
The SSMJ is licensed under a
Creative Commons Attribution-NonCommercial 4.0 International License
eISSN 2309-4613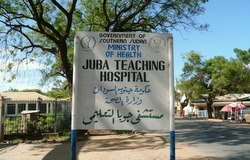 Support Us
Healthcare workers believe that access to good quality healthcare is a basic human right. The SSMJ's role is to empower these hard-working people by providing them with the information and resources that they need to fulfill this goal.
We are a not-for-profit organisation that is staffed by volunteers. We rely on the generosity of the general public to allow us to continue our work in the developed and developing world.
If you have found our website useful please click here to donate now.
LATEST NEWS
South Sudan General Medical Council Launched
5 November 2015 | South Sudan
The South Sudan General Medical Council (SSGMC) has officially launched its services in a ceremony in Juba on 4 November. The launch also saw the offical unvailing of its website.
The South Sudan General Medical Council is an autonomous body responsible for the registration and regulation of medical, dental and pharmaceutical practices in the world's newest country.
ICRC mobile surgical teams: Bringing emergency medical care across South Sudan
25 August 2015 | South Sudan
As the conflict continues, the ICRC is continuously facilitating the evacuation of the wounded and providing them with emergency medical and surgical attention on both sides of the front line. Kerry Page, ICRC's Health Coordinator in South Sudan, gives an update on the MST's work and talks about the challenges faced by health professionals.
Children pay the heaviest price in South Sudan
25 August 2015 | South Sudan
Since December 2013, South Sudan has been engulfed by violence. Driven from their homes, over a million people are sheltering in overcrowded camps and informal settlements at risk of hunger, violence and disease. The humanitarian crisis in the world's youngest country is also a 'children crisis': an estimated 248 000 children under five years are severely undernourished, and around 60% of the South Sudanese refugees in the region are children and youth under 18-years-old.
How South Sudan's Conflict Is Killing Women Far From The Battlefield
23 August 2015 | South Sudan
South Sudan has the highest maternal mortality rate in the world -- 2,054 deaths per 100,000 births, according to the last national survey in 2006. No other country comes close: The next two highest-ranked countries, Somalia and Chad, have maternal mortality rates half as high as South Sudan's. And aid workers at several agencies told The WorldPost that they believe the official numbers actually understate the situation in South Sudan, since many women die in their homes or en route to hospitals, where their deaths go unrecorded.
Welcome to our website:
www.southsudanmedicaljournal.com - the home of the South Sudan Medical Journal.
The contents of our previously published editions have all been uploaded and are free to browse and download.
We hope this is a useful resource to you - we would welcome any feedback and suggestions, or to be notified of new editions, email:
[email protected]
Sponsors

SSMJ would like to thank:
Ventnor Rotary Club, Isle of Wight
The Gibraltar Rotary club
For their contribution towards the development of this website