The South Sudan Medical Journal exists to inform, educate and positively influence the development of Health Services in South Sudan.
The Journal is published quarterly in February, May, August and November.
The SSMJ is licensed under a
Creative Commons Attribution-NonCommercial 4.0 International License
eISSN 2309-4613
Support Us
Healthcare workers believe that access to good quality healthcare is a basic human right. The SSMJ's role is to empower these hard-working people by providing them with the information and resources that they need to fulfill this goal.
We are a not-for-profit organisation that is staffed by volunteers. We rely on the generosity of the general public to allow us to continue our work in the developed and developing world.
If you have found our website useful please click here to donate now.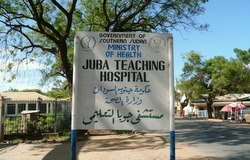 LATEST NEWS
Tackling a deadly outbreak of tropical disease
A news item from
Médecins Sans Frontières (MSF)
in South Sudan
16 January 2015
Last year, MSF treated over 6,700 cases of kala azar (visceral leishmaniasis) in South Sudan, more than double the number of cases it treated the year before (2714 cases treated in 2013). The majority of people treated were in Lankien, a dusty settlement in the conflict affected state of Jonglei. Read the full story.
Blog
The SSMJ blog features regular news and updates on South Sudan health issues, Read more on the blog where you can also sign up to receive updates.
Post-Conflict Mental Health in South Sudan: Overview of Common Psychiatric Disorders'
We are pleased to publish the article 'Post-Conflict Mental Health in South Sudan: Overview of Common Psychiatric Disorders' by Maithri Ameresekere and David C. Henderson. This outlines the disorders commonly seen and suggests ways of diagnosing and managing them.
This document is also published in two parts the South Sudan Medical Journal in volume 5 numbers 1 and 2.
"Behind the Papyrus and Mabaati"
We are pleased to have permission to publish an action research report on Sexual Exploitation and Abuse in Juba, South Sudan, by Confident Children out of Conflict (CCC).
To see the report click here.
African Index Medicus
SSMJ is now recognised and listed in the African Index Medicus - see http://indexmedicus.afro.who.int/ under African Medical Journals. (Or directly here)
Malnutrition Guidelines
We thank the Director of Nutrition, Ministry of Health, Government of Southern Sudan for permission to publish the Ministry's Interim Guidelines on the Integrated Management of Severe Acute Malnutrition. Click here for more information.
SSMJ is proud to support the continuing development of the health care system in South Sudan. Please share with us your experiences during this period, particularly those related to the challenges caused by the large number of 'returnees' . Email admin@southernsudanmedicaljournal.com
Welcome to our website:
www.southsudanmedicaljournal.com - the home of the South Sudan Medical Journal.
The contents of our previously published editions have all been uploaded and are free to browse and download.
We hope this is a useful resource to you - we would welcome any feedback and suggestions, or to be notified of new editions, email:
admin@southernsudanmedicaljournal.com
Sponsors

SSMJ would like to thank:
Ventnor Rotary Club, Isle of Wight
The Gibraltar Rotary club
For their contribution towards the development of this website